Top 5 Hardware Video Encoders for Live Streaming
You may already be an expert in hardware video encoders for live streaming if you're reading this but let's make sure everyone is up to speed on the basics first before we dive into the technical stuff.
What is a hardware video encoder?
A live streaming hardware video encoder is a device that will convert live video data into a stable data stream suitable for live streaming. It's the main hub that all input devices used in a live stream transmit to before it compresses and processes the data into a format suitable for platforms such as YouTube, Facebook Live or Twitch.
Hardware encoders allow for videos to be compressed and streamed over the internet faster, saving time and bandwidth. This saves money and time spent by companies that rely on streaming video services. Having a specialized machine designed for the task means that companies can stream HD video without sacrificing quality while using less bandwidth than if the video was streamed using software installed on a standard computer.
What are the pros?
The main advantage of a hardware video encoder for live streaming is quality. You will be able to get live streaming video that looks just like your regular video feed with little to no delay. 
Hardware video encoders provide live streaming with less latency which means you can stream faster without losing viewers. They're also better quality than software-based live streams so your audience doesn't experience choppy playback or any lag when watching.
This is because the encoding is taking place within the device, rather than relying on your computer to do all of the work. This allows for a smoother live stream with less chance of dropped frames or laggy playback.
Another benefit of using a hardware-based live streaming encoder is uninterrupted playback even under high network load.
It's much faster than converting the file by hand. Most people don't have time to do this manually so having a machine doing it will save you time when creating videos. It also means less storage space as there isn't any need to keep track of what type of media you're working with anymore. 
What are the cons?
As with anything, there are a few cons when it comes to hardware video encoders. For one, they are more expensive than other options you may have, such as relying on software encoding.
Also, you'll lose some quality if you're not careful. If you're converting from one format to another, you may be losing bits of information. 
For example, if you were converting a .MP3 file into an MP4 file, those extra few seconds of silence might become more noticeable than they would in a regular movie. This means that you'll have to be very careful when setting everything up. You might also run into some issues if you're using a very large file, which can make it difficult to work with some machines due to limited storage space.

Other cons:

They're more expensive than software encoders. The cheapest ones tend to be around $200, and the more professional ones can go all the way up to $2000. They can take some time to set up as well.
A lot of them don't come with their own software, meaning you'll have to use a third-party streaming program to make it work.
They can be hard to set up, and you may need to contact the manufacturer's support in order to get it running properly.
Most of them only work with certain streaming programs, so you'll have to do more research before you purchase one.
Despite all these caveats, they tend to provide a much higher quality stream than any software encoder could ever provide. Most people won't notice any difference between a software and hardware encoder if the internet connection is strong enough, but for those with weaker connections, the difference can be huge.
If you're really serious about streaming and want to get the absolute best quality, then it might be worth looking into getting one of these.
What video formats do they support?
Most hardware encoders will allow you to choose from several different types of video formats, here are some of the more common ones:
MPEG-2: A widely-used standard for storing digital video.
MPEG-4: This is another popular option for live streaming, especially when sending to Apple products due to its support for the QuickTime format. It's also known for its ability to reduce file sizes while still delivering a quality viewing experience.
MJPEG: An older video codec that supports continuous encoding.
H.264: A standard for video compression. H.264 is part of MPEG-4 Visual and part of MPEG-4 AVC which is commonly called "MPEG-4 Part 10" or "MPEG-4 AVC". This type of video is actually very common for live streaming as it's supported by all major platforms and devices making compatibility a non-issue. It also happens to be one of the most efficient types of video meaning it will use the least amount of bandwidth while still providing a high-quality image. 
H.265: As the name implies, this type of video container uses High-Efficiency Video Coding (HEVC) which provides higher quality video at much lower bitrates than H.264. It's quickly becoming more popular so it may be worth considering for your live streaming needs.
What are the top 5 best options?
VidiU
Perhaps the easiest to use and the most versatile of the options, VidiU offers native integration with the most mainstream streaming platforms like YouTube, Facebook and Periscope and requires very little expertise to get it running out of the box in minutes. 
The VidiU App also allows you to record your own live streams for later viewing on the web or other devices. You can even share them with friends and family through Facebook, Twitter, Google+ and more!
Features:
– Stream HD Video & Audio (H264) from any device in your home or office via WiFi connection. No need to install any software on your computer!
– Supports the most popular streaming apps such as Netflix, Hulu Plus, Amazon Instant Video, YouTube TV, Periscope and many others.
– Record your own live streams using our free app to watch later on the web or other devices. Share them with friends and family by email or any other sharing service you prefer.
– View statistics about how much bandwidth was used during a particular session. The usage time of each stream can be viewed too!
How to use VidiU:
1. Connect your laptop/desktop PC to the internet via Wi-Fi network. (If you don't have one yet, sign up here!)
2. Launch the VidiU App on your phone or tablet and connect to your router's LAN port using a USB cable. (You may need to enable 'Auto Configure' if it asks.) If prompted, enter the username and password for your router. Once connected, the app will show your Wi-Fi network name. (See image)
3. Open a web browser on any other device you want to stream from and enter the Wi-Fi network name in the address bar. You will be prompted to enter a login – use the same username and password you use to log into your Wi-Fi router.
4. Now all you need to do is launch a video stream on any devices you want to include in your live broadcast. You can also add a title and alternative description for your live event.
URayCoder
The URayCoder is the value option here. It's not the absolute best or most powerful tool on this list but it's hard to argue with its low price tag of under $200.
It can take HDMI input and encode it into H.264 MPEG-4 video format for streaming purposes, which is great if you want to save on bandwidth. It can even auto-detect the frame rate of your source (whether that be NTSC or PAL) and adjust the encoding settings accordingly, saving you, even more, time and guesswork. It also features an automatic equalizer that optimizes the output for a variety of viewing situations. If you need an encoder, this is the one for you.
You can also use URayCoder to connect your laptop or desktop to your TV for streaming media playback. It's especially handy if your desktop doesn't have an HDMI port! UrayCoder provides the same quality of sound and video that you'd get from other HDMI connected devices on the market.
Don't pay hundreds of dollars for other over-priced video encoders. The URayCoder does everything you need at a fraction of the price.
Features:
HDMI 1080P HD video input into H.264 encoding for streaming or playback on TV
Auto frame rate detection and encoding optimization
Automatic equalization and enhancement adjustment
Video decoding hardware acceleration
High-quality MPEG-4 video encoding
LIVE video preview
Supports most video formats such as .wmv, .asf, .mpg, .mpeg, .dat, .axv, .mp4, m4v, .3gp, .vob, .mkv, etc.
Supports most audio formats such as .wma, .mp3, .m4a, .aac, .flac, etc.
Easy to use with a clear graphical interface
Free customer support
LiveShell X
The beauty of LiveShell X is it requires no computer or intermediate device and can stream directly to your platform of choice.
It can also be used for recording so that you can stream content at a later time even after internet disconnection. This is an All-In-One tool that also eliminates the need to connect other external devices to your smartphone.
This product has been designed for a wide range of professionals such as musicians, reporters, media content creators, sports commentators, and live performers who want to share their audio/video content with others at any location without using any third-party assistance.
This device is a great tool to live-stream social media events, concerts, corporate meetings, and speeches without any hassle. The compact size of LiveShell X makes it easy to carry from one place to another and eliminates the need for a desktop PC. You can directly connect your smartphone with this device through an OTG Cable, which comes along with the package.
You can use the Vmix application on your android phone to control the video and audio aspects of the LiveShell X device. You can also preview the video right from your phone, which will be sent to the device. The best part is you do not require any external power supply as this device is USB powered.
You can share your content with anyone at any location in a high-resolution quality without any third-party involvement.
Features:
H.265 HEVC and H.264 codecs enabled for live streaming and recording
HDMI and HDCP compliant for monitoring through monitors/TVs
High-quality video resolution of 1080p at 60 fps
Automatic frame rate switching to support different devices
Background noise cancellation
No lag in audio and video
USB powered device
Compatible with most of the audio and video players
Supports memory cards up to 32 GB
LiveU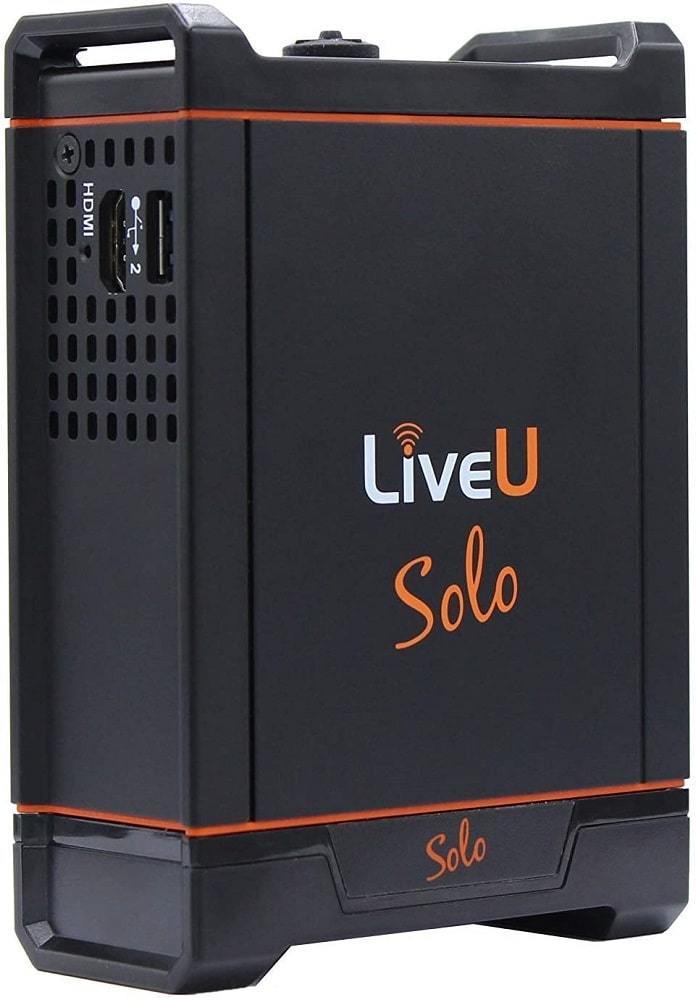 LiveU is hands down the best choice for portability, though the tradeoff is the steep price tag.
The encoder is powered by a standard USB port, so if you're using it in an RV or something similar, you'll need to supply its own power source. It's also fairly light (about 2 pounds), which means you won't have to worry about carrying around a bulky unit when travelling with it. The unit ships with two cables: one for connecting directly to the encoder and another for attaching to your computer. You can buy additional cables separately.
Weighing in at just over two pounds and small enough to fit into most camera bags, the LiveU Solo is extremely easy to transport. It has a built-in rechargeable battery that can provide up to three hours of streaming on a single charge, which is extended to ten hours when using the included car charger accessory.
J-Tech Digital H.264 IP
The J-Tech Digital H.264 IP is one of the simplest and smallest encoders on the market. It's compatible with both Mac and PC, unlike some of the other makes which are PC only. In addition to this, it has a super slimline design and will fit in a camera bag that's bursting at the seams.
Features:
H.264 video compression for HD quality
Supports up to 16 simultaneous video streams
High-quality audio with built-in AAC codec and multiple audio outputs
Multiple onvif compliant network camera support
Super lightweight and portable design
Atom Dual Core 2.13Ghz CPU processor provides high performance for H.264 encoding
Supports 2 SATA HDDs for local recording
USB web camera supported
Easily integrates with add-on network cards Gigabit Ethernet, 802.